Can my friend or relative perform the ceremony and just have you certify it?
You can have anyone you wish perform a non-legal ceremony while I witness it. At the conclusion of your ceremony I will take you aside and ask you to proclaim your intention to take each other in marriage. Even though it may be done in private, this public declaration allows me to make the pronouncement that will now make you legally married. I will then be able to sign and file your license with the proper authority. If this is something you are interested in get in touch with me and we can discuss the particulars further. 
Courthouse Elopement Package - For ceremonies performed at the courthouse the ceremony fee defined by Virginia Code Title 20 [ch2: sec. 20-27] as $75 plus the travel rate of $25 for a total of $100 will be charged (excluding any gratuity you care to offer). Please call ahead for an appointment. Only outdoor ceremonies in front of the "OLDE COURTHOUSE" are being performed at this time.
Travel Rates:
At the Courthouse - $25     At your location 10 miles or less from Leesburg - $50 
 At your location more then 10 miles from Leesburg - $75
Late Start Fee: An additional charge of $25 will be added to the total for any ceremony that begins 15 minutes past the scheduled start time and for each additional 15 minute period thereafter.
Basic Package - These events take place at the location of your choice (your home, backyard, a park, or a vineyard perhaps) rather than at the courthouse. They are usually just small simple affairs where the bride and groom and maybe one or two guests would gather to commemorate the occasion. The fee is $75 plus the travel rate (excluding any gratuity you care to offer). 
Semi-Formal Package - This package is for a larger informal event where there would be several guests in attendance and a higher level of service is desired:
These ceremonies may be scheduled for evenings, weekends, or holidays. The fee is $125 plus the travel rate (excluding any gratuity you care to offer) and includes but is not limited to the following services:
- Administrative duties: This includes the arranging and crafting of your ceremony. It also includes completion and filing of your license and any required followup.
- Pre and Post Ceremony availability: I usually block enough time so as to arrive approximately 30 to 45 minutes before your ceremony so that I can run through highlights of the ceremony with your readers, photographer, musicians, and any others who may need last minute reminders of their cues. I can usually stay afterwards for up to one hour if you wish. By blocking this much time afterward my goal is to ensure that even if your ceremony is late to start there will still be enough time without anyone being rushed.
- Abbreviated ceremony run through: For those ceremonies that have not had a rehearsal I would provide an abbreviated run through right before your ceremony where I will brief your participants on their parts as well as lineup your wedding party for their entrance.
- Keepsake Certificate: I will issue you an "unofficial" keepsake marriage certificate with my gold seal embossed upon it suitable for framing or for inclusion into your wedding album.
- Records retention: I will maintain a copy of your account information for a minimum of one year after your event. In most cases I will retain an electronic version of your information in my computer files for an even longer period that will sometimes also include a scanned copy of your license.
Formal Package - This package is for a formal event where the wedding party participants would number four or more people other then the bride and groom:
This package includes everything listed above under the semi-formal package plus a rehearsal session where you will receive detailed ceremony direction and supervision for you and your wedding party. The fee is $175 plus the travel rate (excluding any gratuity you care to offer).
- Ceremony design and planning session: This package also includes a planning session where we may get acquainted and discuss the details of your ceremony. All of the required information will most likely be able to be discussed and gathered either over the phone, video conference, or by email. In person meetings are available upon request.
Deposit and Cancellation Policy - A deposit may be required to hold the requested date. You may cancel at anytime. All remaining funds will be due at the time of the rehearsal or absent a rehearsal they will be due on the day of your ceremony.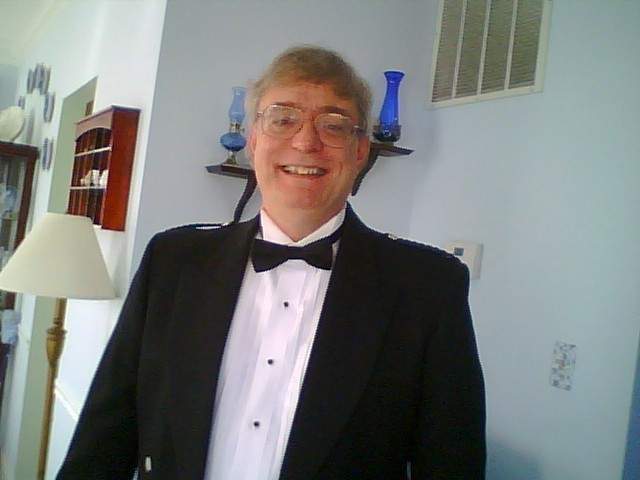 Gratuities graciously accepted